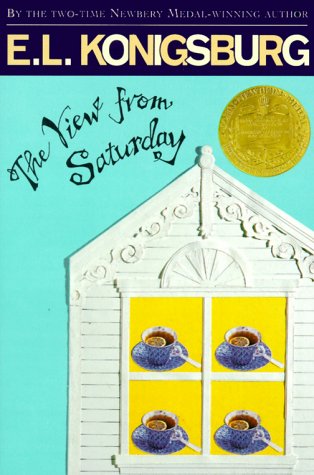 Uh oh. On page 31 of E.L. Konigsburg's The View from Saturday (Atheneum Books for Young Readers, 1996), I was hit with a sense of dread by two lines: "He was talking about turtle nests. Turtles had brought Grandpa and Margaret together."
Konigsburg's book tells the story of the four sixth graders who comprise Mrs. Olinkski's Academic Bowl team at Epiphany Middle School. The book explores how the four friends ended up together by devoting a chapter to each of their back stories. Twelve-year-old Nadia's back story involves a trip to Florida to see her dad - and spending time with her grandfather and his new wife on the beach looking for sea turtle nests.
So why would this cause dread? Because my latest project is the story of a twelve-year-old girl who goes to spend the summer with her grandfather looking for sea turtle nests.
Certainly there are differences. My book, Abigail's Atlantis, will focus on many different aspects of the sea turtle's habits and use it as the context for the entire story arch, not just integrate it into a single character's one-chapter back story. Still, there's a sense of discouragement when the idea you thought was original turns out not to be.
For anyone who has read through my journey through the
Newbery Award winning
books, they know I've harped on how often orphans are at the center of these books. The key, of course, is that the task of any writer is to bring a fresh spin or perspective to a story, even if it is one which has been told before.
In writing two King Arthur-themed books so far (Otter and Arthur and the Sword in the Stone, Otter and Arthur and the Round Table), I have had to work hard to navigate this path. With Abigail's Atlantis, I already was tasked with coming up with a fresh spin on another topic. Now I have to find a way to give a new look to the sea turtle side of the story as well as the Atlantis side.
Note: for those who haven't read the book, this video collection of seemingly disjointed images and quotations won't make a lot of sense. However, in context, they capture the main themes and plots of the book.
---