First posted 2/19/2019.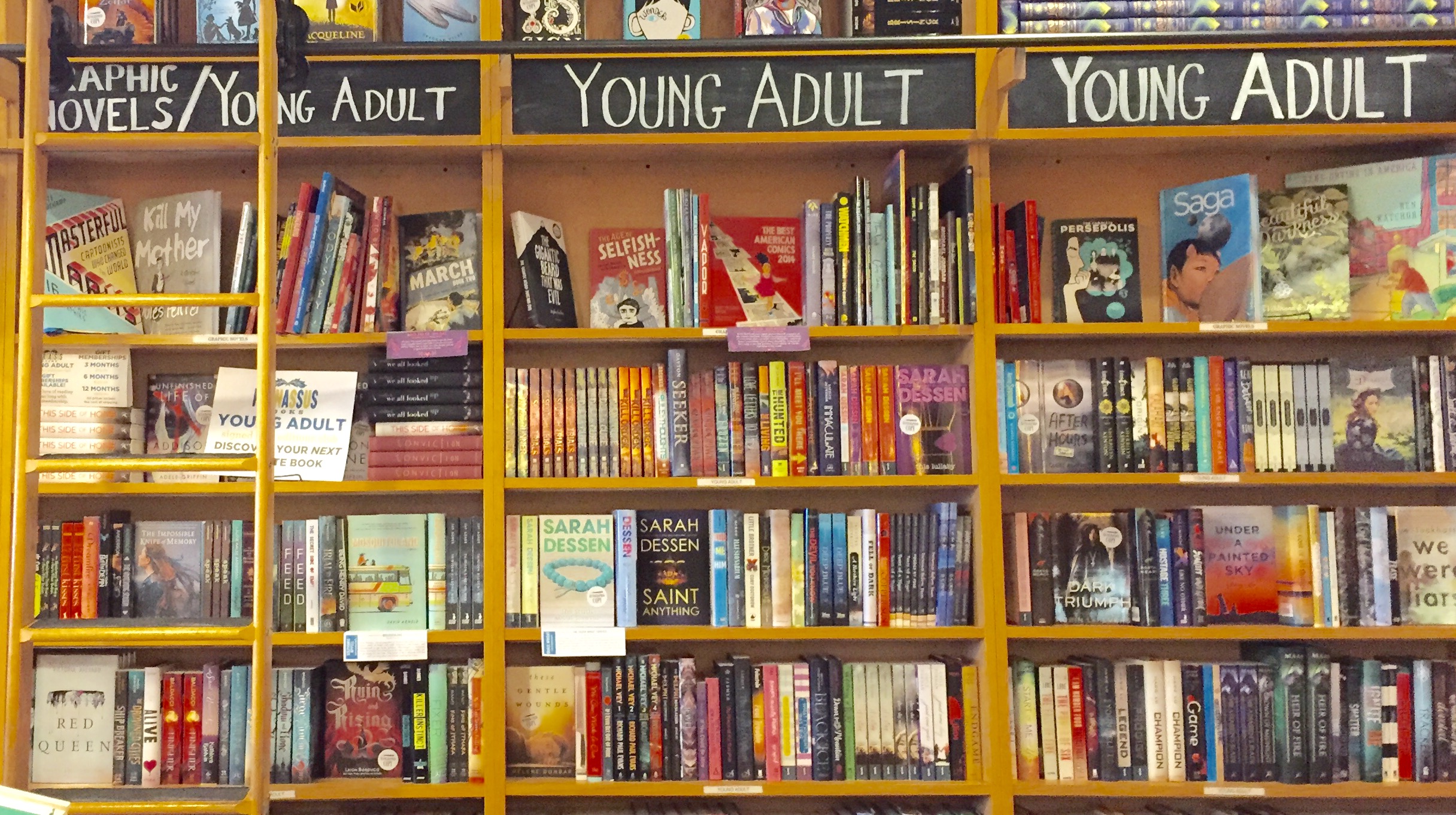 image from studybreaks.com
These are the top 50 young adult books based on an aggregate of titles' appearances on a dozen lists specific to young adult books, 25+ general children's book lists, and another 50+ general book lists.
You can also check out Writ by Whit's aggregated lists of the top children's novels here and top children's picture books here.
J.R.R. Tolkien The Hobbit (1937)
Lois Lowry The Giver (1994)
Suzanne Collins The Hunger Games (trilogy: 2008-10)
S.E. Hinton The Outsiders (1968)
Philip Pullman His Dark Materials (trilogy: 1995-2000)
Gary Paulsen Hatchet (1987)
Harper Lee To Kill a Mockingbird (1960)
Judy Blume Are You There, God? It's Me, Margaret (1972)
Markus Zusak The Book Thief (2005)
John Green Looking for Alaska (2005)

Mark Haddon The Curious Incident of the Dog in the Night-Time (2003)
J.R.R. Tolkien The Lord of the Rings (trilogy: 1954-55)
William Golding Lord of the Flies (1954)
J.D. Salinger The Catcher in the Rye (1951)
Ursula K. Le Guin The Earthsea Cycle (series: 1968-2001)
Sherman Alexie The Absolutely True Diary of a Part-Time Indian (2007)
Rick Riordan Percy Jackson & the Olympians (series: 2005-09)
Ellen Raskin The Westing Game (1978)
Neil Gaiman The Graveyard Book (2009)
Jack London The Call of the Wild (1903)

Mark Twain The Adventures of Huckleberry Finn (1885)
Stephen Chbosky The Perks of Being a Wallflower (1999)
John Green The Fault in Our Stars (2012)
Orscon Scott Card Ender's Game (1968)
Anne Frank The Diary of a Young Girl (aka The Diary of Anne Frank) (1947)
Richard Adams Watership Down (1972)
Meg Rosoff How I Live Now (2004)
Judy Blume Forever… (1975)
Diana Wynne Jones Howl's Moving Castle (1986)
Laurie Anderson Speak (2011)

Christopher Paolini Eragon (2003)
Douglas Adams The Hitchhiker's Guide to the Galaxy (1979)
William Goldman The Princess Bride (1973)
Gene Luen Yang American Born Chinese (2006)
T.H. White The Sword in the Stone (1938)
Jane Austen Pride and Prejudice (1813)
Patrick Ness A Monster Calls (2011)
Veronica Roth Divergent (series: 2011-13)
anonymous Go Ask Alice (1976)
Scott Westerfeld Uglies (trilogy: 2005-06)

Stephenie Meyer Twilight Saga (series: 2005-09)
Jay Asher Thirteen Reasons Why (2011)
Walter Dean Myers Fallen Angels (1988)
Paul Zindel The Pigman (1968)
Robert Cormier The Chocolate War (1986)
Nancy Farmer The House of the Scorpion (2004)
Malorie Blackman Noughts and Crosses (2001)
Gail Garson Levine Ella Enchanted (1997)
Cynthia Voigt Homecoming (1981)
Sarah Dessen Just Listen (2006)
---