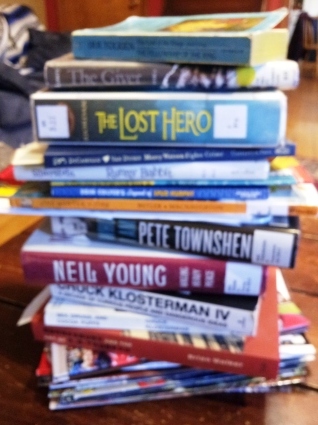 The coffee table in our family living room is littered with reading material, both on top and underneath. Technically, only two of the vast pile meet the criteria of "coffee table book;" that is, books whose primary purpose is to give guests something to thumb through without paying a lot of attention to it. One is a collection of Doonesbury cartoons and the other is a homemade book collecting photos of my wife and 10YO's trip to London to see the 2012 Olympics.
There are plenty of "throwaways," meaning those materials that will only have a temporary home on our table before heading to the recycling bin. There's a USA Today newspaper as well as magazines ranging from The Smithsonian, Rolling Stone, Ranger Rick, KC Studio, and Q (a British music magazine). Mostly, however, the table serves as a cluttered catch-all for the family's collective readings.
My 10YO and I are chugging through J.R.R. Tolkien's Fellowship of the Ring together while Mom has tackled Lois Lowry's The Giver with him and our 7YO. My oldest son is also reading Rick Riordan's The Lost Hero and Brian Selznick's The Invention of Hugo Cabret. My younger son has been reading Kate DiCamillo's Mercy Watson Fights Crime aloud to me while I have read Shel Silverstein's Runny Babbit to him.

My heavy interest in music is showcased by a couple of autobiographies. I've nearly finished Pete Townshend's Who I Am and Neil Young's Waging Heavy Peace is on deck. When I'm just killing a few minutes, I dive into one of the collections of Chuck Klosterman, a music journalist noted for work with Rolling Stone and Spin.
Various "works in progress" squeeze their way into the piles as well. Right now there's a clipboard with my 7Y0's first illustration for a temporarily on-hold book, Wart and Scraggles. Last night, the rough third chapter of my Otter and Arthur sequel found a brief home on the table as I read it to my sons for feedback. My 10YO plans to bring his story, The Vine Clingers, home from school so we can type it up on the computer. It's bound to end up on the coffee table soon.

It all ultimately means one thing - we have a messy coffee table. I wouldn't have it any other way.
---